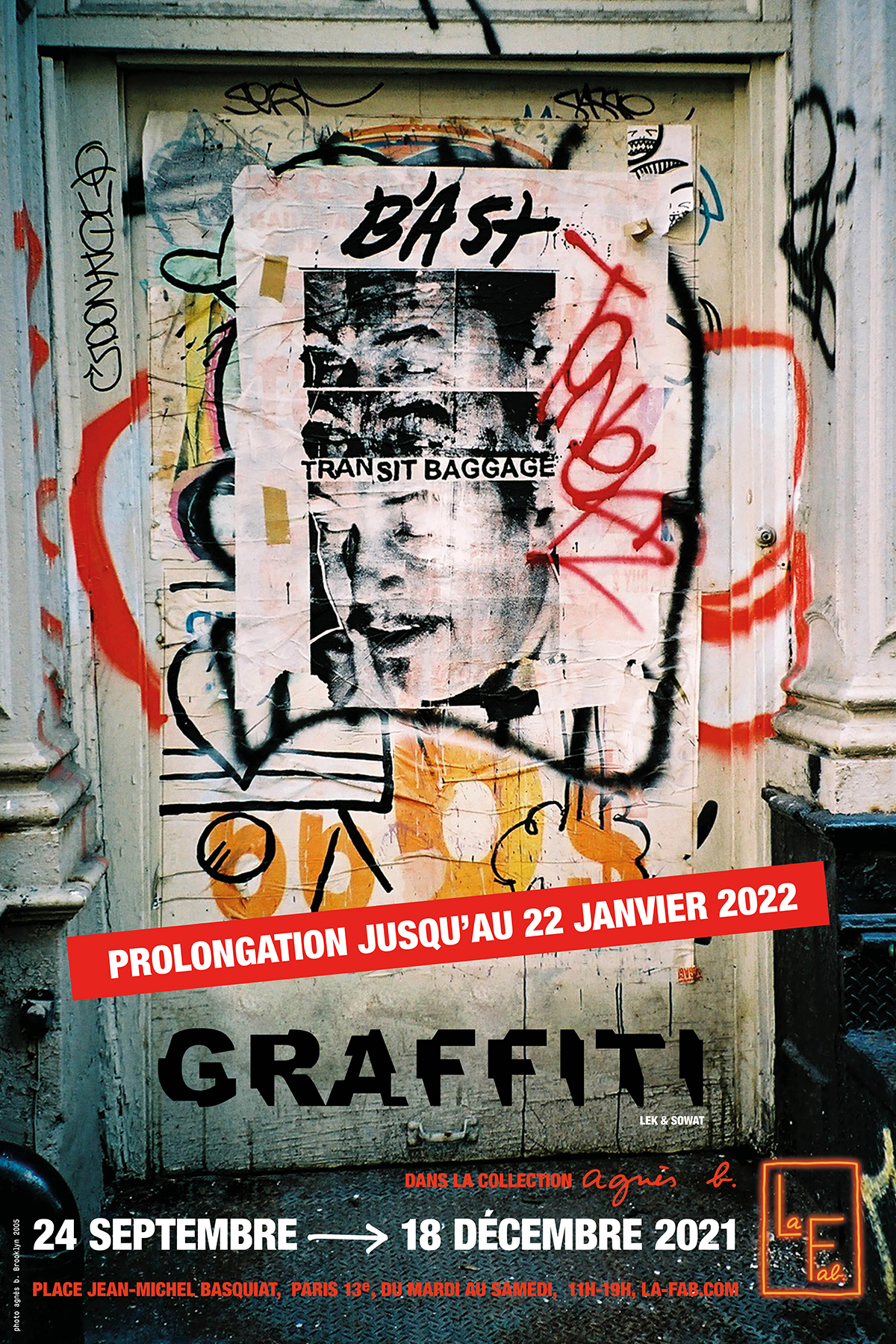 agnès b. presents the third season of its collection at La Fab.
Throughout the fall, La Fab. is dedicated to Graffiti and agnès b.'s historical relationship with this movement since 1985.
The Graffiti movement will take over all the interior and exterior spaces, private and urban, of La Fab. The agnès b. collection, the Galerie du Jour, and the Place Jean-Michel Basquiat offer a fascinating retrospective of history and discovery.
«Since 1985, agnès b. has been inviting artists she spots on the street to exhibit at the Galerie du jour. Pioneer and prescriber, her encounters and favorites have allowed her to build a rare and singular collection, which until now, has never been shown to the public. A true common heritage, these works that she cherishes testify to the different strata of urban art, as well as its evolution. Conceived as a journey through time, this exhibition traces the great pictorial history that unites Paris and New York. Constructed in two parts that dialogue and complement each other, it puts into perspective the different currents – poster artists, stencil artists, graffiti artists, street artists – that were born in the streets of these two graffiti capitals, before taking over the canvas and the walls of galleries.»

Karim Boukercha, co-writer of the book Sur nos murs, 40 ans de graffiti avec agnès b., to be published by Editions Textuel on October 7th.
Télécharger le communiqué de presse de l'exposition
Liste des artistes exposés
A-One
Charlie Ahearn
John Ahearn
Babou
Banksy
Bäst
Philippe Baudelocque
Blek le rat
Bla
Brassaï
Faile
Fast
Jean Faucheur
FPBJPC
Futura
Raymond Hains
Lucien Hervé
Dennis Hopper
Ikon
JayOne
Jef Aérosol
Jim Joe
JonOne
Katre
L'Atlas
Lek & Sowat
Lulu Larsen
LXA
Mambo
Manhu
Maripol
Ryan McGinley
Jérôme Mesnager
Le Module de Zeer
Moze
Rostarr x ZYS x Sasu (Hitotzuki) x JPEG (Illdozer)
Shepard Fairey / Obey Giant
José Parla
Cleon Peterson
Piro Kao
Psyckoze
Mimmo Rotella
Sharp
Sidnè
Skki
Sunset
Hiraku Suzuki
Tanc
Teurk
Walise
WK Interact
Zevs
Gérard Zlotykamien
Interventions inédites in situ dans le cadre de l'exposition :
Jordane Saget
36RECYCLAB (Alexis Cladière)
Olivier Kosta-Théfaine
Kraken
Mambo
Lek & Sowat
Le Module de Zeer
OX
Sébastien Préschoux
PROTOSTELLA (Philippe Baudeloque)
PSYCKOZE
La Fab., Place Jean-Michel Basquiat, Paris 13.
From Monday to Saturday ; 11 a.m. – 7 p.m.
Open on Sundays : 2 – 7 p.m.
Last entrance at 6 p.m.
Full price : 7 euros / Reduced price : 4 euros