Exhibitions
Each exhibition is a new opportunity to forge bonds between works, distill new meanings, and reveal coherence and shared sensitivities.
In 1992, the agnès b. collection was shown for the first time at Espace des Arts, Chalon-sur-Saône, in an exhibition entitled Un regard sur l'art contemporain. La collection agnès b, which then traveled to Musée Picasso in Antibes. Two subsequent exhibitions highlighted the collection's deep roots in photography: in 2002 at Centre National de la Photographie in Paris; and in 2002 at Pavillon des Arts in Nogent-sur-Marne. In 2004, Les Abattoirs de Toulouse held the first full-scale mixed-media presentation of the collection. In October 2008, the prestigious C/O Berlin showed photographs from the collection to coincide with the publication of a monograph of the collection edited by Editions JRP Ringier. In 2015, LaM — the Lille Metropole Museum of modern art — held the exhibition Un regard sur la collection agnès b. In 2016, the collection took up residence in the Paris's Museum of the History of Immigration for a unique dialogue with contemporary pieces in the museum's collection as part of the Vivre! exhibition. In 2017, no fewer than 400 works moved to La Collection Lambert in Avignon for On aime l'art! Most recently, in 2019, the collection was invited to the National School of Photography in Arles for the inaugural exhibition of its new building.
The fonds de dotation agnès b. maintains and presents this unique collection of contemporary art by lending numerous works every year to major exhibitions organized worldwide. In 2019, in the 13th arrondissement of Paris, agnès b. will fulfill one of her greatest dreams with the opening of La Fab, where her collection will be shown to the public.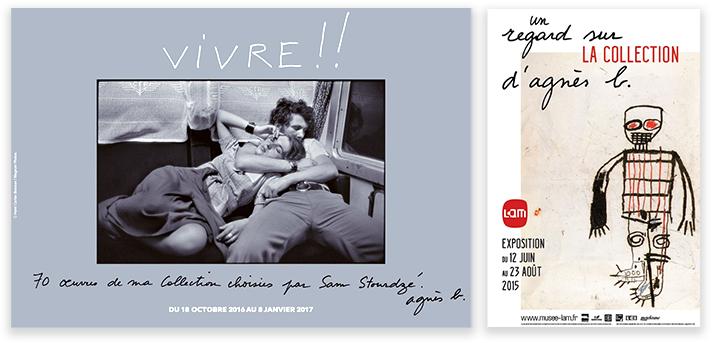 List of exhibitions of the agnès b. collection
2019
Modernity of passions National School of Photography, Arles, July 1 – July 10, 2019
Curator: Fabien Vallos, teacher, & Juliette Vignon, head of exhibitions, with Siouzie Albiach, Florent Basiletti, Antoine Brun, Théa Guéniot, Léa Thouin and Adrien Vargoz
2017
Vivre !! 70 œuvres de ma collection choisies par Sam Stourdzé
Museum of the History of Immigration, Paris, October 18, 2016 – January 8, 2017
Curator: Sam Stourdzé
Amour, amours – 70 photographs from my collection
Kyotographie, Kyoto, April 26 – May 14, 2017
On aime l'art… ! Un choix d'Eric Mézil parmi les œuvres de la collection agnès b.
Collection Lambert in Avignon, July 6 – November 5, 2017
Curator: Eric Mézil
2015
Un regard sur la collection d'agnès b.
Lille Métropole Museum of Modern Art (LaM), June 12 – August 23, 2015
Curator: Marc Donnadieu
2008
agnès b. collection of photography
C/O Berlin, October 11 – December 7, 2008
2004
Je m'installe aux Abattoirs, la collection d'art contemporain d'agnès b.
Les Abattoirs, Toulouse, April 9 – June 13, 2004
2002
La collection de photographie d'agnès b.
Palais des Arts, Nogent-sur-Marne, March 29 – June 6, 2002
2000
La collection de photographie d'agnès b.
Centre National de la Photographie, Paris, June 14 – August 21, 2000
1992
Un regard sur l'art contemporain. La collection d'agnès b.
Espace des Arts, Chalon-sur-Saône, January 1992
agnès b.: un regard sur l'art contemporain
Musée Picasso, Antibes, April 25 – June 15, 1992