POETRY
AGNÈS B. COLLECTION
SEPTEMBER 23rd, 2022 – JANUARY 22nd, 2023
OPENING THURSDAY, SEPTEMBER 22nd FROM 6 P.M.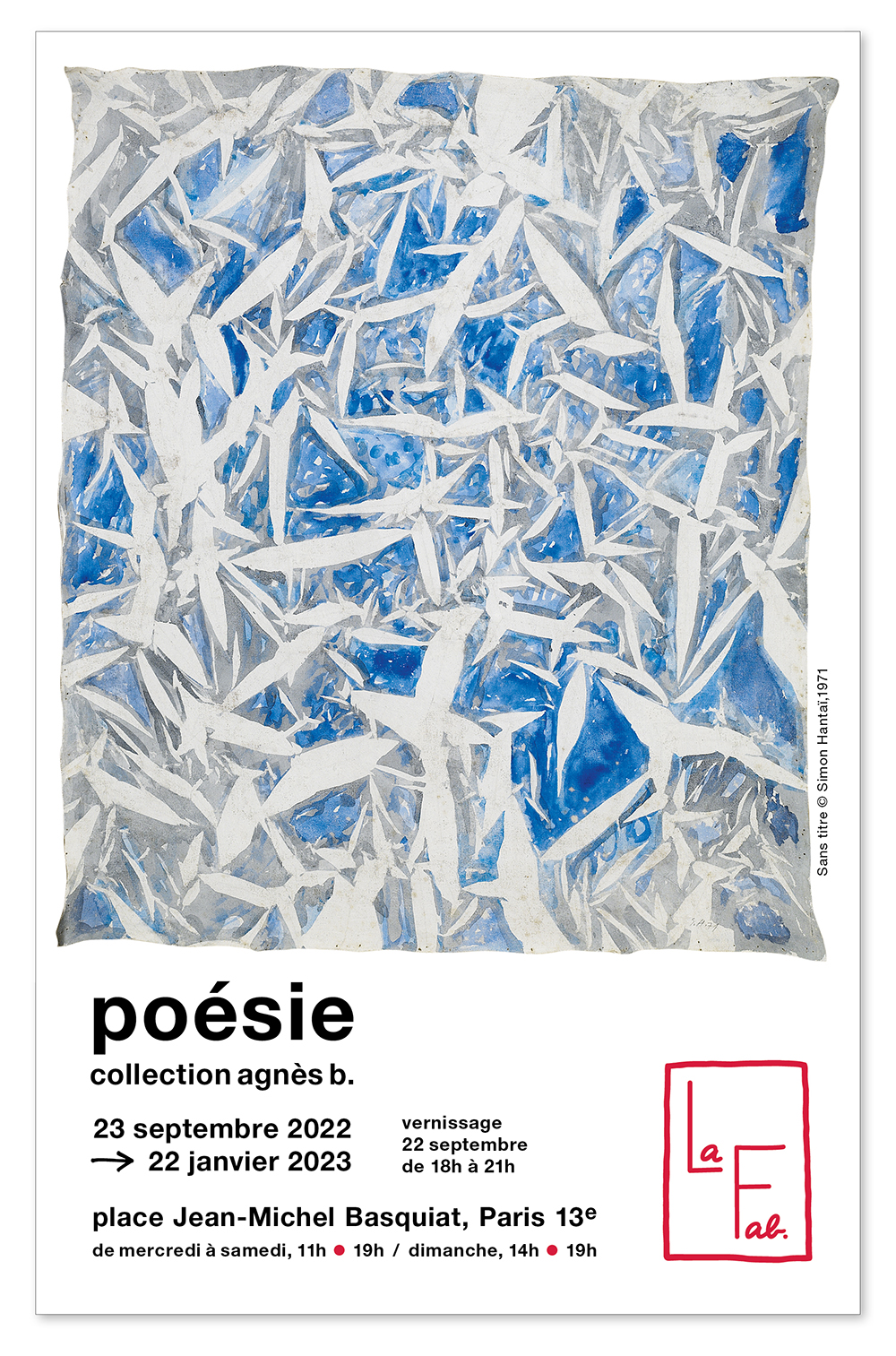 For this exhibition, agnès b. reverses the poetic process; from photographic images, paintings, drawings… she insinuates possible narratives to the viewer. The writing here is invisible but each image is a sensory charge that tells stories.
with : ALLEN GINSBERG, ANDY WARHOL, ANTOINETTE OHANESSIAN, AUGUSTE VACQUERIE, BERNARD QUENTIN, CYPRIEN GAILLARD, ENZO CERTA, ERNEST T., FABIO VISCOGLIOSI, FRANCK ANDRÉ JAMME, FRÉDÉRIC BRULY BOUABRÉ, GÉRARD MALANGA, GREGORY CORSO, HARMONY KORINE, HENRI MICHAUX, HERVÉ GUIBERT, KORWA, JEAN-LUC LAGUARIGUE, JEAN-LUC PARANT, JEAN-MICHEL BASQUIAT, JOËL HUBAUT, JOHN GIORNO, JONAS MEKAS, KENNETH ANGER, KOO JEONG-A, LOUISE BOURGEOIS, MARCEL MIRACLE, MATTHIEU MESSAGIER, MAX COULON, NICOLAS DIETERLÉ, PATTI SMITH, PIERRE KLOSSOWSKI, PIERRE MOLINIER, PIERRE REIMER, ROBERT FILLIOU, ROBERT MAPPLETHORPE, ROBERTO MARTINEZ, TANTRA, TITI PARANT, VYAKUL, WOLFRAM ADALBERT SCHEFFLER
"By word of mouth from generation to generation, skilful directors and inventors of alphabets together escape the categories of art and literature; in their love for the mixture of genres, in the fertile chaos of their essays, following a lexicon sometimes of abundance and sympathy, sometimes of restraint and withdrawal, without ever failing to make explicit the importance of the banal, they work on the circumstances and the motif. Everything happens as if between the human being, the given, the inert and the rest of the living there were imperceptible and inexhaustible comings and goings.
It is oblivion (of being an artist, poet, actor, writer, acrobat, musician…) that alone can delimit spheres of freedom, variable, changing, ephemeral or in formation. What this exhibition reveals will be situated on the side of craft and fabrication, imagining compositions, drawings, words or creations as points of irony and friendship addressed to reality".
Federico Nicolao