Fondation Tara Océan
fonds de dotation agnès b. works in partnership with numerous local and international organizations to help the most vulnerable sections of the population. The aim of ensuring a fairer distribution of the world's resources also drives our support of Fondation Tara Océan and its ocean research programs.
This project came out of the deep-rooted humanist vision and shared passion for the oceans of its founders, agnès b and her son Etienne Bourgois. The two philanthropists bought Tara, a modern schooner in 2003 in order to carry out scientific and environmental missions. As main supporters of Fondation Tara Océan, their ecological activism has been ongoing for more than ten years.
Fondation Tara Océan, the first French foundation devoted to ocean research, uses Tara to develop open, innovative and unparalleled ocean science in order to predict and better anticipate the impact of climate change. Its state-of-the-art scientific expertise is deployed to raise awareness and educate younger generations as well as inciting political leaders to action and providing developing countries with access to the latest research. Fondation Tara Océan is an UN special observer and participates actively in the UN's 2030 Agenda Sustainable Development Goals program.
---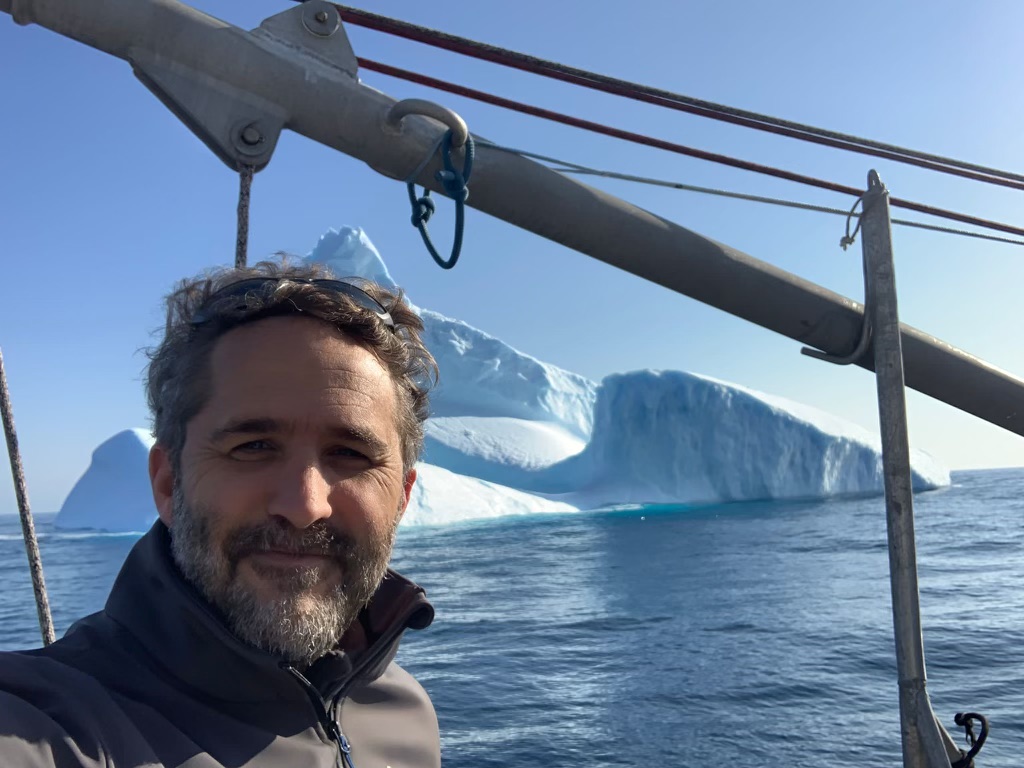 Romain Troublé, General Director of the TARA Océan Foundation
January 11th, 2022, Antarctica, on board diary
" Hello,

Last night, at Deception island the fog fell giving us barely 200 m of visibility. Rather than staying one more night, as soon as Nico, Matt, Marin and Thierry came back from the manhunt at 6pm, I decided to sail to Half Moon island, half way to King George and our plane. Martin came out of the pass with a radar and a depth sounder, and we sailed for 4 hours under motor in a fog to cut with a knife. Even a whale that we had to wake up hadn't seen or heard us arrive… It suddenly became agitated at 10 m from Tara to leave… sorry!
The anchorage of Half Moon in crescent Moon, is well sheltered and the island hosts an Argentinean base, not occupied.
In the early morning, blue sky and sun for a walk on land in front of crazy glaciers, peaks full of whipped cream and seracs of all blues at sea level. Then, after the dej, we have just taken the road of King George after a small hour spent in the big bay East of Livingston Island, there are names of crazy islands here, in the middle of growlers, these small icicles, of about 400 years of age. Beautiful you will see. A leopard seal was basking on an iceberg as big as him.
The wind is of 20nds to the 3/4 back for KGI, all sails outside we have it for 4h along the islands of the corner.
Tonight, last night, if the plane comes tomorrow…, Alberic brought a Grand Cru Clos Vougeot to close with the team these few days of luck on Tara as we like it in these rough conditions. A time stolen from the expedition, to be repeated on each expedition…
Tonight at 9pm we take stock of the weather with the pilots to know if it will fly tomorrow or not.
Oops, we put ourselves in the wind, we send the canvas, youpi it was time… I leave you.
Good end of weekend!
Romain "