Conference | Woman, Life, Freedom. A slogan from before the Fall
Saturday, June 10 2023 ; 5-7 p.m.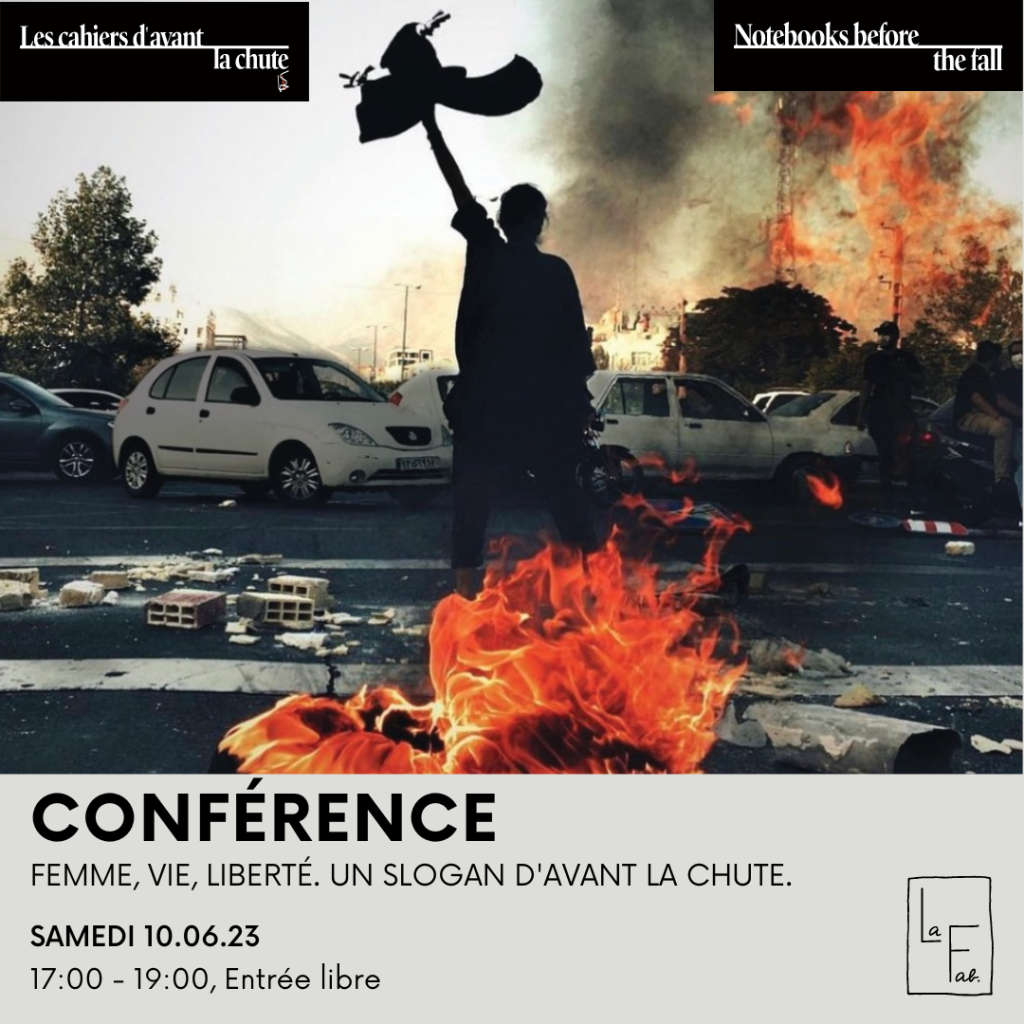 On the occasion of the publication of The Notebooks Before the Fall by Golnaz Broomandi, Ashkan Norouzkhani, Tinoush Nazmjou.
Iran is in turmoil. It always has been. Only, the oscillations are accelerating. The uprisings are becoming more numerous. The Iranian society is not what the Islamic power pretends, nor even this distorted vision that we see from here, from far.
Woman-Life-Freedom, for a while surprised the world, then it dazzles. Another world is there, hidden under the darkness, repressed, ignored. We have finally seen it, because the images are there. Thousands of photographers, most of them unknown, have captured the moments of this extraordinary uprising. Thanks to them, the Iranian Leviathan has emerged from the shadows. And the light was.
---
About Golnaz Broomandi and The Notebooks Before the Fall
Narrating a revolution that could have been lost due to the profusion of images and emotions, she tells us about this Persian dream that can change a country, a subcontinent…and why not the world ?
The Naakojaa publishing house, of which she is a co-founder, is at the origin of the publication of a series of notebooks entitled Les cahiers d'avant la chute (The Notebooks Before the Fall). These publications, which take the form of verbatim, attempt to give an account of the movement in progress, in the hope that they will serve as a documentary base in the future. The second special issue of these notebooks, of which you will have an overview at La Fab., is devoted to the photographs that have reached them from Iran, but also to those of the diaspora which is fully committed to the people of Iran. Captions in French, English, and Persian accompany them.
The content of this special issue is intended to accompany the events around the Woman-Life-Freedom movement.