LAUNCHING & SIGNING | COMA by Fernanda Tafner
Saturday, May 13 2023 ; 5:00-7:00 p.m.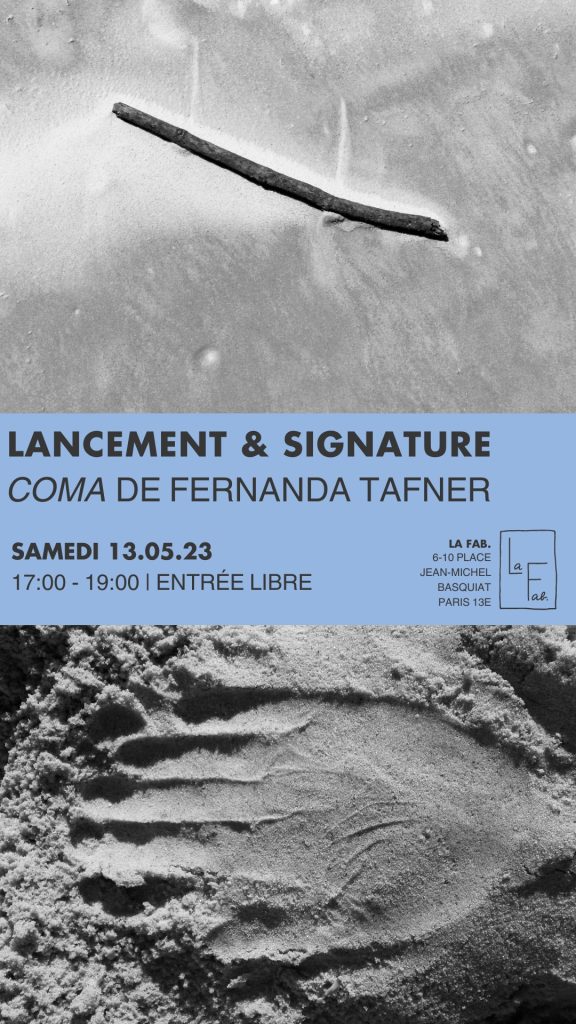 COMA follows a traumatic experience in 2017, when my mother was in the intensive care unit in Brazil. For 6 weeks, in between visits to the hospital, my mother's room and the beach, I photographed. To breathe, to resist. In the form of a poetic narrative, I interweave images and texts, evoking the transitory and indefinite state between life and death. I also appropriate the polysemic character of the word COMA, which means the state of unconsciousness, both in Portuguese and in French, and also represents, in Portuguese, four forms of the verb to eat.
Self-publishing
Printed with the support of the agnès b endowment fund.
A first edition (book + print) will be available for sale during the event
Prints: edition of 10, 21 x 14,8 cm, inkjet print on Hahnemühle FineArt Matt Bright White paper, 310g.
---
About Fernanda Tafner
Born in 1980 in Brazil. Lives and works in Paris.
Fernanda Tafner studied Product Design in Brazil. In Paris, she did a Master's degree in Contemporary Art at the University of Paris 8 and studied photo technique at the Gobelins school. Photography is her medium of choice, although volume and sound recording are introduced in her latest projects. Focusing on detail and fragment, her photographic practice often takes the form of series where experimentation and analysis juggle memory and imagination. Her work has been exhibited in Brazil and France. Fernanda participates in artistic residencies, such as the Tignous Center for Contemporary Art in Montreuil and the BZHPHOTO Festival in Brittany. Some of her series like "Propice" and "Songe" were shown in many Festivals like the Photography Festival of Paranapiacaba, and the Fotofestival SOLAR, in Brazil, the DIAFRAGMA, Covilhã International Photofestival, in Portugal, the Photographic Walks in Vendome, the InCadaquès FotoFestival, in Espanha, among others. COMA is her first publication of photo book.