LOVE LOVE Magazine | The Reflective Foto Issue or The Mirror Image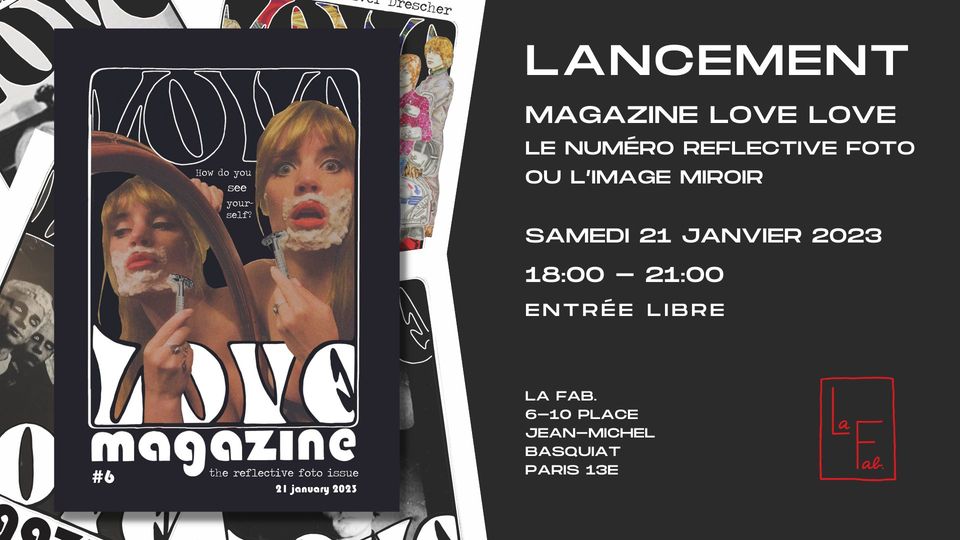 On January 21 Love Love & La Fab. invite you to a Love Love launch party to present the latest issue.
Love Love magazine – a print magazine of the arts is an underground print publication framed by poet, photographer and Warhol superstar, Gerard Malanga and created and edited by Swedish artist Lisa Marie Järlborn. It returns on January 21 with its 6th issue – The Reflective Foto issue.
In this issue, Love Love explores the perception of self and others through film and photography, exploring the mirror image and identity created through the prism of all art forms: poetry, prose, collage, illustration, photography, cartoons, interviews, articles and much more.
During the evening, new Love Lover & featured artist Bibbe Hansen (NY) will perform on stage.
Bibbe Hansen was an actress in films by Warhol and Jonas Mekas, her father Al Hansen created and was part of the Fluxus art movement, whose art Bibbe continues to produce. She is a writer, poet, visual artist and musician. Her first band was The Whippets with Jan Kerouac (daughter of Jack). She is the mother of artists Channing and Beck Hansen.
London musician Gabi Garbutt will also perform during the evening. Gabi makes surreal lyrical soul music, influenced by poets like Baudelaire and Rimbaud with an edge of English rock 'n' roll. She opened for The Libertines at the Olympia in Paris.