Première Encre – Publishing Fair of the Paris school of fine arts
From June 1st to June 4th, 2023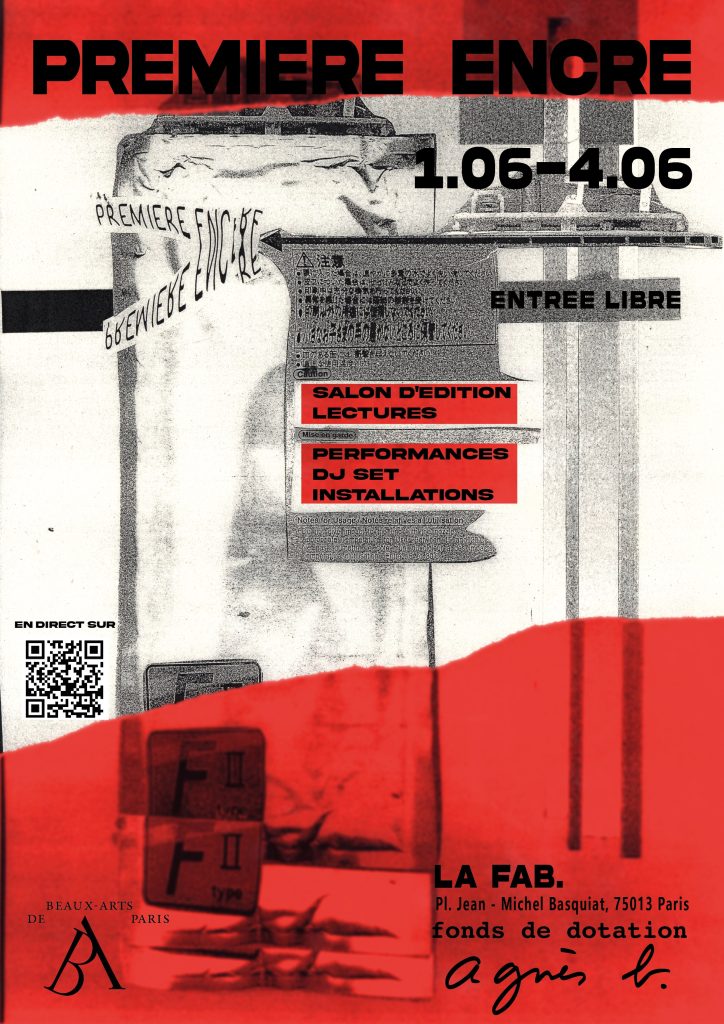 If reading is a practice perceived as solitary, the way in which the book is made implies the collective.
If the reader appears alone, the edition is multiple.
If the art object has an aura, the printing proposes routes. The multiple is at the same time companion, wedge and support. The multiple is a magic object. Let us recall that it allows the human being to leave his body, to meet unknown beings, to skip censorship, to speak to anonymous people.
On paper and on walls, the space is repeated without being similar, the unique is doubled and made generous from hand to hand, crossing our shelves, our pockets and our lives.
For a weekend, students from the Beaux-Arts de Paris and young artists invite you to experience the multiple in its widest dimension, free and liquid, at the invitation of Clément Douala from La Fab (endowment fund agnès b.)
---
PROGRAM
Opening on Thursday June, 9 ; 18h-22h
DJ set from Delusion Records (Assane Mané & Talal Eshki)
Ongoing :
– 24H RISO (Tiziano Foucault-gini, Loïc Morel, Marius Fouquet) adapted with the background of the La Fab. bookstore.
(96 pages, 24 exemplaires)
To be discovered all weekend long :
– 378 toncar (Caroline Rambaud, performance)
– L'île Vague (Leto, reading)
– Tattoo (Parella / Suiram)
– Bienvenue dans une conversation (Margot Bernard, performance son/vidéo)
– Dancing (Rookies)
– Animation projection (Caroline Rambaud)
– Perf (Lisa Lecuivre)
– Broadcast (Kyle Keese)
– Readings (Feryel Kaabeche, Paul Hyper)
---
PARTICIPANTS
Students from Sirjacq's workshop
• Tiziano Foucault-Gini
• Lalie Thébault Maviel
• Marius Fouquet
• Loïc Morel
• Caroline Rambaud
• Margot Bernard
• Camille Demirian
• Parella Armand
• Driss Tillais
• Feryel Kaabeche
• Leto Williams
• Yucegul Cirak
• Olivier Perusat
• Théo Pall (Edition Burn-Août)
• Adrien Fort
• Chahid El Bati
• Kyle Keese
• Simon Juillard-Marchay
• Jade Boudet
• Céleste Moneger
Guests & Alumni
• Paul Hyper
• Augustin Lignier
• Gaspard Laurent
• Chloé Van Derstraen
• Max Laguerre
• Simon Sabotier
• Lisa Lecuivre
• Joris Valenzuela
• Brieuc Bowens
• Gabrielle Simonpietri
• Lou Rappeneau
• Chérine Boubendir
• Andréas Février
• Zoé Chataignon
• François Grange
---
Opening : Thursday, June 1 2023 ; 6-10 p.m.
Opening hours : Friday, June 2 & Saturday, June 3 2023 : 11 a.m.-7 p.m. ; Sunday, June 4 2023 : 2-7 p.m.