A STRANGE JOURNEY | Reading & concert based on a poem by Nazim Hikmet
Saturday, January 14 2023. From 7 until 9 p.m.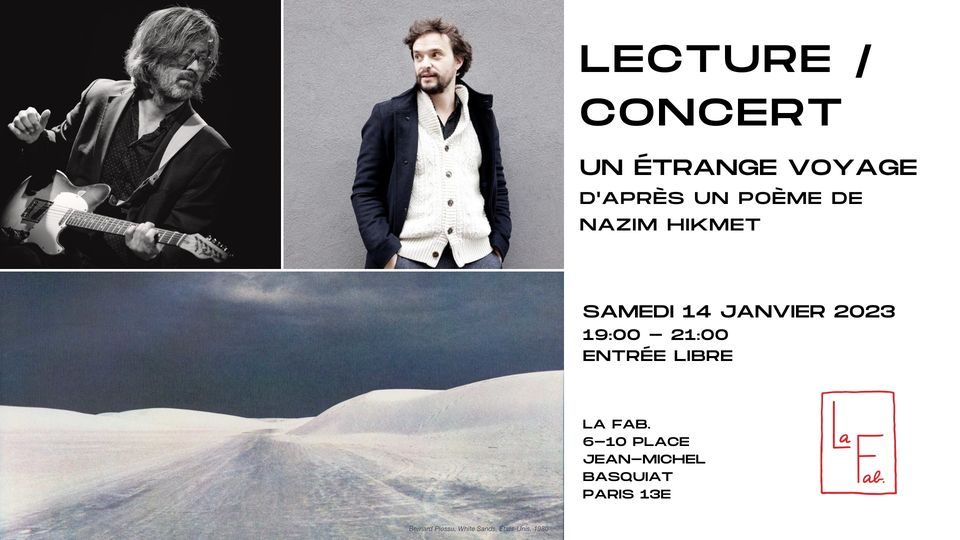 IN THE QUASI-DARKNESS OF AN IMMERSIVE PROPOSITION, THIS MUSICAL CROSSING MIXES A STRANGE JOURNEY, THE WANDERING OF THE TURKISH POET NÂZIM HIKMET THROUGH A EUROPE UNDER CONSTRUCTION WHERE EVERYWHERE THE BELOVED WOMAN APPEARS TO HIM, TO THE EPIC TONES OF THE GUITAR OF THE HUNGARIAN MUSICIAN CSABA PALOTAÏ.
A Strange Journey is a long prose love poem written in chaotic post-war Europe, leading Nâzim Hikmet to Moscow and Cuba in the midst of the 1961 crisis, when new political and utopian divisions were savagely redrawing the world.
On the ruins of History, of Europe, of revolutions, of wars, the poem is still inscribed in us, to try to tell the wandering of an exile in the grips of his century, with his life.
TEXT
Nâzim Hikmet

VOICE
Julien Allouf

MUSIC
Csaba Palotaï

DRAMATURGY
Marion Stoufflet
PRODUCTION
L'état des choses, La Comédie de Reims–CDN, l'Institut Français d'Istanbul