Dance and Music
GODLIS ⭑ MALICK SIDIBÉ ⭑ SEYDOU KEÏTA ⭑ VINCENT ROSENBLATT ⭑ ALAIN DISTER ⭑ JONAS MEKAS ⭑ AGNÈS B.
From December 16, 2022 until March 5, 2023
Opening on Thursday January 12, 2023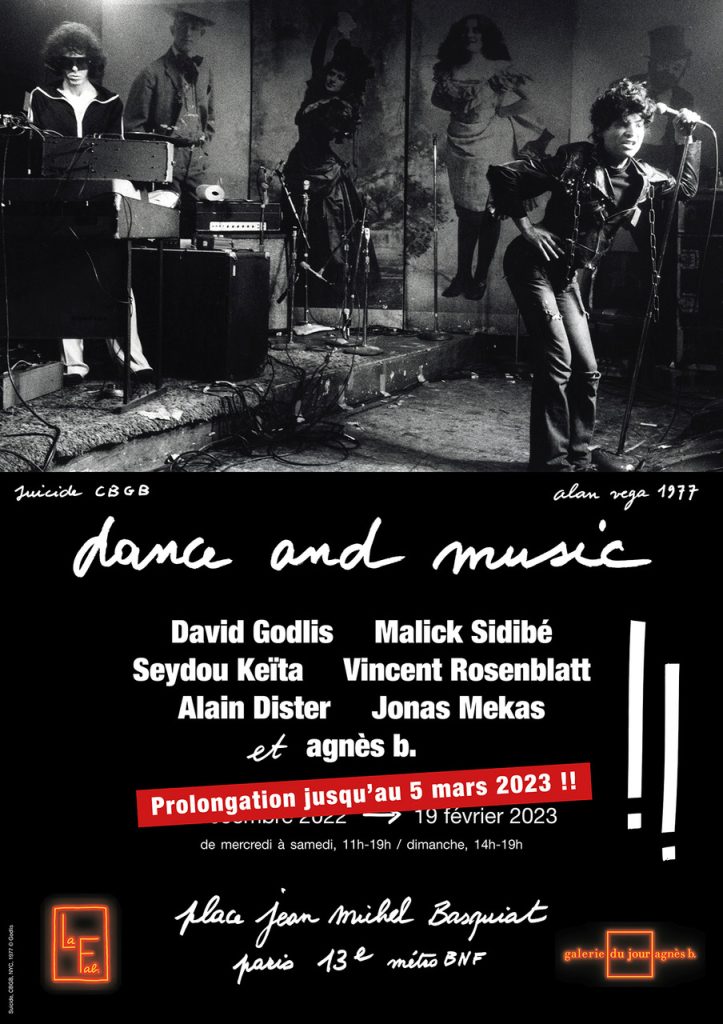 The title as an imprecation, a temptation to finally leave behind what has prevented us for many months from prevented us during long months to find the sound and the body of the others.
It is a desire to share, to find ourselves around what is the great popular song
the one that provokes the movement of the dance.
Music is not a simple distraction even if it is sometimes futile.
The last century was a vibrant example of this, the musical styles were and will always be the
the detonators or the accompaniers of revolutions. That they are soft or more violent are societal, cultural, sexual … seriously political and futilely enjoyment.
The exhibition looks, through the eyes of seven photographers, at this organic relationship between
musicians and the audience. It captures the immeasurable joy and need to move to
notes.
After coming to Galerie du Jour, we hope you will have only one slogan in mind: Dance and music.
in your head: Dance and Music !!!
---
The Artists in a few words :

Vincent Rosenblatt captures the burning energy of the Brazilian underground scene. He captures the
expressive power of the Baile Funk parties where bodies create their own language with
authenticity and immediacy.
Malick Sidibé captures the emancipatory desire that passes through music, dances and underwear.
Here he follows the path that Seydou Keïta traced before him as an amused spectator of
societies in movement.
Godlis as Alain Dister testify of these madly dense decades where the flower power, will leave the place to the punk, without forgetting a rock which carries all the Western youth on its passage on its way; leaving incredulous parents at the quay.
Jonas Mekas gives free rein to his passion: the video of the moment and of life as it happens; an
experimentation through improvisation and music as a huge creative outlet.
Agnès b. shows her love and passion for these music activists during memorable
memorable concerts. We can see some of her old friends : Patti Smith, Sonic Youth, Alan Vega …