Saturday, October 23rd 2021
From 3 to 6 p.m.
AT LA FAB. – LIBRAIRIE DU JOUR
BOOK-LAUNCH & SIGNATURE
"Sur nos murs, 40 ans de Graffiti avec agnès b." with the artists and authors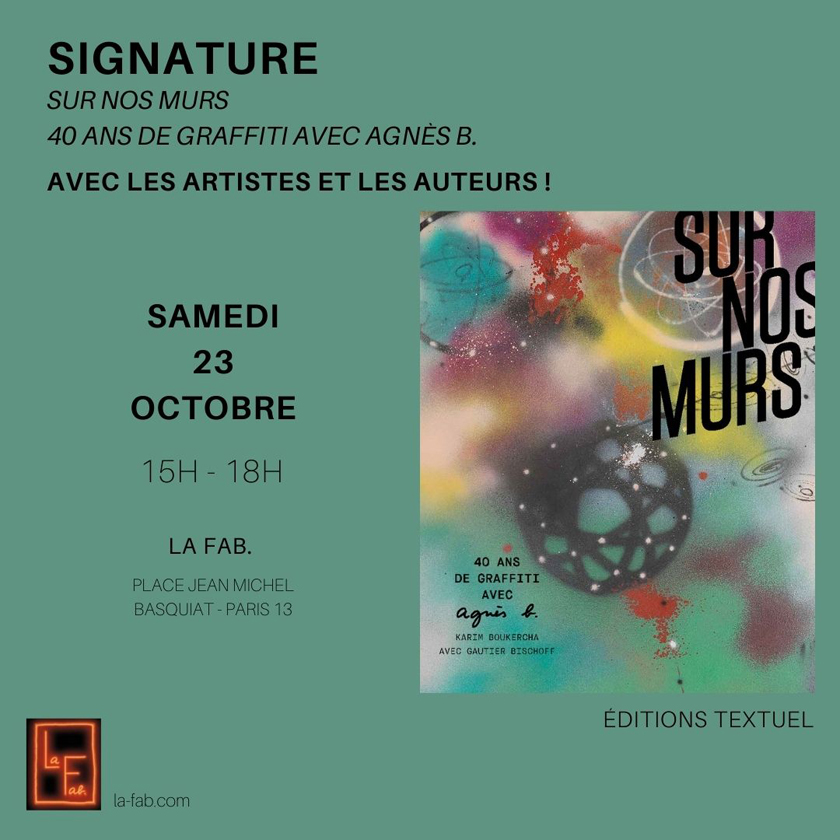 The genesis of this book lies in a treasure trove stored in a hundred boxes at the Galerie du Jour in Paris, the first exhibition place for Graffiti in France. Filled with rare and unpublished archives, these boxes contain the different strata of urban art from 1984 to today. Pioneer and visionary, agnès b., for almost forty years, has invited a number of artists she spotted on the walls of Paris or New York to exhibit in her gallery. Through a thorough investigation, Karim Boukercha has reconstructed this history by collecting the words of many major players in the discipline, exploring the major developments of a global painting movement that was born in the street and will succeed in imposing itself in the art world. In this fresco haunted by the works of Jean-Michel Basquiat and Keith Haring, resound the fascinating testimonies of poster artists such as the Ripoulin brothers, the stencil artists Blek le rat or Miss Tic, through the pioneers of graffiti such as Futura, JonOne, Mode 2 or the BBC to the stars of street art such as Space Invader and Obey Giant.
Karim Boukercha is the author of four books on the graffiti scene, including "Descente Interdite -Histoire du Graffiti dans le métro parisien (Éditions L'OEil d'Horus / Alternatives, 2011)" which has become a classic of the genre. His books offer in-depth investigations for both connoisseurs and neophytes. He also writes for the cinema, for filmmakers like Costa Gavras or actor-producers like Vincent Cassel.
Gautier Bischoff has been documenting the Graffiti movement since the late 1980s. He has been following the work of Parisian writers for more than thirty years, travelling around the capital and its suburbs. He is considered as one of the most important archivists of Graffiti in France. Co-founder of L'OEil d'Horus editions with Julien Malland in 2004, he has since published about thirty titles under the Wasted Talent label.
This book accompanies the exhibitions "Graffiti in the agnès b. collection" and "Graffiti…in the street and after…?" held at La Fab., Paris 13, from September 24, 2021 to December 18. 2021.
---
"SUR NOS MURS, 40 ANS DE GRAFFITI AVEC AGNÈS B." (éditions Textuel)
Karim Boukercha with Gautier Bischoff
Published on October, 6th 2021
23 x 28,5, relié, 240 pages, 49 €
With the support of the agnès b. Endowment fund
---