The discoveries of André Magnin
Seyni Awa Camara / Amadou Sanogo / Ana Silva
also featuring
Frédéric Bruly Bouabré / J.D. 'Okhai Ojeikere / Seydou Keïta / Malick Sidibé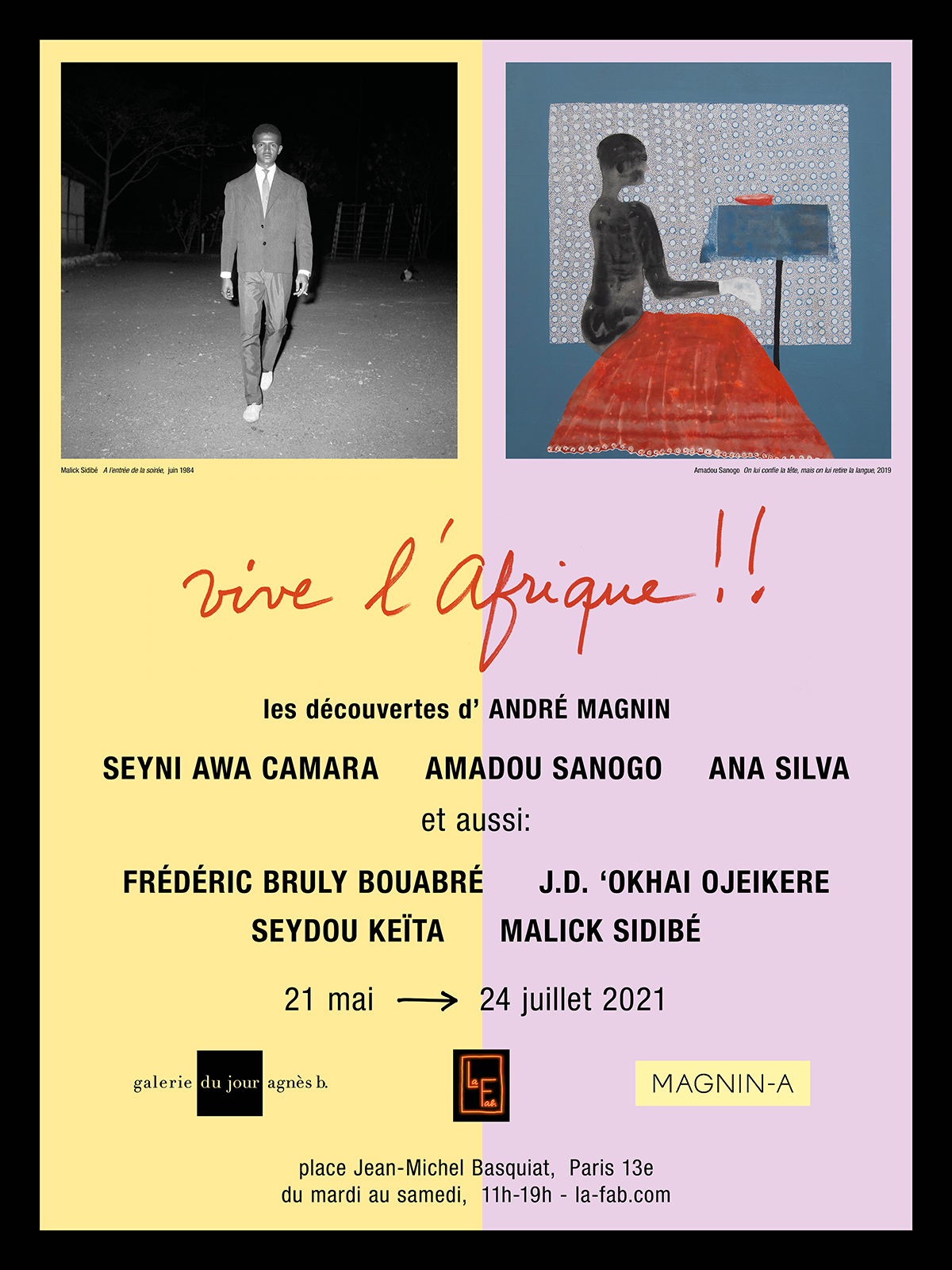 Vive l'Afrique!! is an opportunity for agnès b. to introduce the public to some to the artists discovered by André Magnin and represented by the gallery MAGNIN-A. Testifying to her active support of African art over twenty-five years, agnès b. exhibits an eclectic panorama of contemporary creation on the African continent.
Frédéric Bruly Bouabré, observes the world and produces drawings redolent of daily life, which enabled him to fulfill his dream of entering the "Pantheon of Picasso". Seyni Awa Camara, raises from the earth maternal, feminine sculptures, creations inspired by her dreams and the spirits that inhabit her. Seydou Keïta, a master of studio photography, gives us portraits of immense beauty, a sober look at Malian society in the mid-twentieth century. A few years later, the off-the-cuff photography of Malick Sidibé speaks to the freedom and modernity driving the younger generation in Bamako at the dawn of independence. In his Hairstyles series, J.D. 'Okhai Ojeikere records the styles of Nigeria, from simplest to most sophisticated. This absolutely unique body of work has its place in photography, fashion and ethnography and, quite simply, in art. The symbolic and figurative paintings of Amadou Sanogo, suffused with light and with the oral, popular tradition, denounce the political practices of the governing elite. Ana Silva's aesthetic is a story delicately hinted at behind lace and embroideries where feminine figures—the memories of intimate stories and familiar faces—are revealed.
This exhibition is the fruit of the long-standing friendship between agnès b. and André Magnin, the co-curator in 1989 of the exhibition Magiciens de la Terre (Magicians of the Earth), who continued to initiate agnès b. into the contemporary art of the African continent.
In 2005, at Galerie du jour, the first iteration of Vive l'Afrique!! was held, already featuring the work of Malick Sidibé, Frédéric Bruly Bouabré, J.D. 'Okhai Okeijere and Seydou Keita. It was in 1999 that agnès b. had first shown signed and dated contemporary prints by Malick Sidibé and Seydou Keita.
André Magnin worked on multiple exhibitions at La Galerie du Jour agnès b.: in 2010, he curated the Frédéric Bruly Bouabré retrospective; in 2011, in collaboration with Frank André Jamme, Abhay Maskara and Hervé Perdriolle, André Magnin curated the (M)other India exhibition; in 2016, agnès b. invited André Magnin to create a dialogue between the work of photographer Omar Victor Diop and the photography of Malick Sidibé.
Alongside Vive l'Afrique!!, André Magnin has invited agnès b. to exhibit on his walls. While Fabrice Monteiro will show his complete series Signares for the first time, agnès b. will put on view eighty images from the Drôlesses series, from May 28, 2021, at the gallery Magnin-A.
---
Galerie du Jour, Place Jean-Michel Basquiat, 75013 Paris.
Tuesday-Saturday ; 11:00-7:00 p.m.
Last entrance at 6 p.m.
Free entrance in the respect of the sanitary rules
Exhibition from May 21st until July 24th 2021.
---